Essential Magnesium Recovery Cream 250mL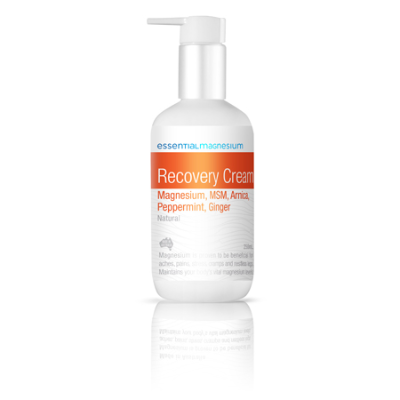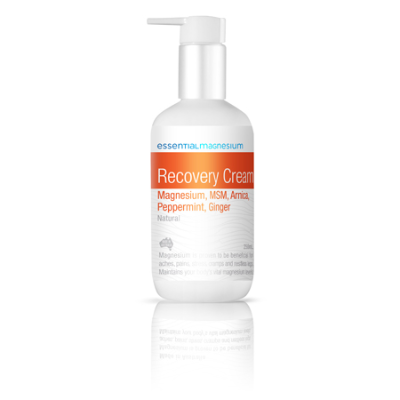 Essential Magnesium Recovery Cream 250mL
Recovery Cream is a natural pain relief cream made of a unique blend of ingredients and organic essential oils that work together to provide fast and effective relief to all forms of muscular aches, pains and injuries. Beneficial for sports recovery.
HOW TO USE: Recovery cream applied liberally to the required area for Natural Pain Relief. Repeat as required. CONTAINS: 29% magnesium chloride hexahydrate plus 2% Arnica. 5g (1 teaspoon) contains 300mg of elemental magnesium.
ALL NATURAL AND DRUG FREE FORMULATION
KEY INGREDIENTS AND WARNINGS.
Cream Ingredients: Distilled water, Magnesium Chloride Hexahydrate, Sweet Almond Oil, Glycerine, Cetearyl,GlycerylStearate, Sodium Stearoyl Lactylate, Methyl Sulfonyl Methane, Hydroxypropyl Starch Phosphate, Mentha Arvensis, Arnica Oil, Phenoxyethanol, Eucalyptus Globulus, Zingiber Officinalis.
If symptoms persist consult your healthcare practitioner. Always read the label. Use only as directed.Some people may experience a tingling affect when they first apply, this is simply the magnesium being drawn into the skin.