Essential Magnesium Night Cream 250mL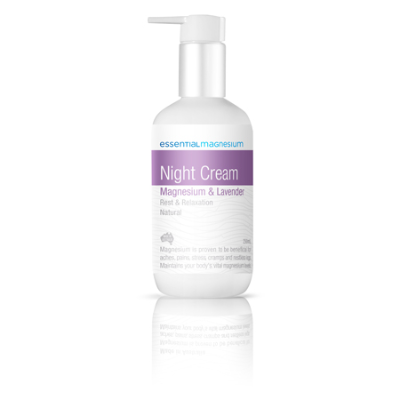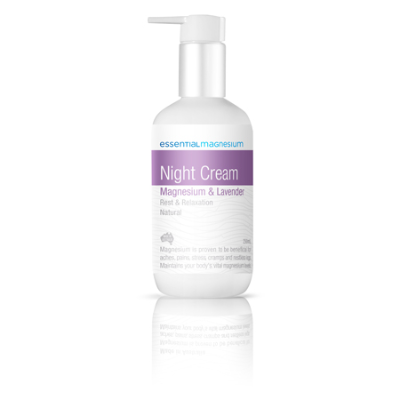 Essential Magnesium Night Cream 250mL
This Night Cream is made up of a unique blend of ingredients and essential oils to help promote a deeper and more restful sleep every night. This product works well if you are a light sleeper, can't get to sleep at all, or wake with restlessness or muscle cramps.
HOW TO USE: Night cream applied liberally to the feet, legs and back of neck 15 minutes prior to bed. Alternatively massage into any area of the body to aid relaxation.
CONTAINS: 29% magnesium chloride hexahydrate plus 2% Arnica. 5g (1 teaspoon) contains 300mg of elemental magnesium. Premium Natural Sleeping Aid for A Good Night's Sleep - Pure Magnesium Cream Blended with Organic Therapeutic Essential Oils
ALL NATURAL AND DRUG FREE FORMULATION
KEY INGREDIENTS AND WARNINGS:
Natural formulation: Distilled water, Magnesium Chloride Hexahydrate, Sweet Almond Oil, Glycerine, Cetearyl, Glyceryl Stearate, Sodium Stearoyl Lactylate, Hydroxypropyl Starch Phosphate, Arnica Oil, phenoxyethanol, lavendula officianalis and marjoram hortensis.
Some people may experience a tingling affect when they first apply, this is simply the magnesium being drawn into the skin. This will subside with continued use.If symptoms persist consult your healthcare practitioner.